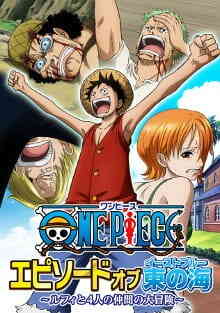 One Piece: Episode of East Blue - Luffy to 4-nin no Nakama no Daibouken (Dub)
One Piece: Episode of East Blue - Luffy to 4-nin no Nakama no Daibouken (Dub)
The words that Gold Roger, the King of the Pirates, uttered just before his death excited the masses and the world has entered a Great Pirate Era! There is a group of young pirates who are about to set sail on the Grand Line. Monkey D. Luffy, a rubber man. Roronoa Zoro aka "Pirate Hunter." Usopp, a sniper. Sanji, a seafaring cook. And "Cat Burglar" Nami. They, the Straw Hats, all place a foot upon a barrel and make their vows before their next journey across the great ocean. Luffy shouts "In order to be the King of the Pirates!" A decade ago in the Windmill Village... A little boy Luffy was enthralled with a pirate boss Red-Haired Shanks. But a group of mountain bandits shows up and makes fun of the pirates. "Why didnt you fight them?!" Luffy yells out angrily but Shanks says that its nothing worth getting mad over. At that time, Luffy snatches the Gum-Gum Fruit from a treasure box and eats it and as a result, his entire body becomes rubber and he loses the ability to swim for the rest of his life! A few days later, Luffy is surrounded by the mountain bandits again and Shanks comes to help. "No matter what the reason, anyone who hurts my friends has to pay!!" Shanks and his pirate crew are incredibly strong and they beat down the mountain bandits. Higuma, the head of the mountain bandits, runs away kidnapping Luffy and heads for the sea. However, they encounter a local Sea Monster there and are attacked. Luffy is in a desperate situation... But again, Shanks saves the day. He outstares the Sea Monster and chases it away but in exchange, he loses his left arm... When Shanks leaves the village, he leaves his straw hat with Luffy. "Come bring it back to me someday! Once youve become a great pirate!" 10 years later, Luffy has grown up strong and he sets out for an adventure on a small boat. He again encounters the local Sea Monster for that fateful day. However, Luffy takes it down with a single blow of Gum-Gum Pistol. Luffy's journey to become the King of the Pirates now begins!
Episode your are watching right now anime online of One Piece: Episode of East Blue - Luffy to 4-nin no Nakama no Daibouken (Dub) Ep
001
.
Comment
Anime
Episode

001
Rules
Flagging

- If you see anyone violating the rules, please use the report button ("mark as inappropriate"). Disliking an opinion is not a valid reason for flagging.

Spoilers

- Do not post them! It doesn't matter if someone asked for them, or not - it will still result in a warning and/or a ban. Comments containing intentional and unprovoked spoilers (posts like "X is the Beast Titan" "X is Y's brother") that are clearly not theories or guesses will result in an instant ban.

- Pointless text/text that can be identifiable as spoliers such as "Everyone dies" or "Han shot first!" is not allowed. We are not Meme Central nor do we want to be.

- If you want to discuss future episodes, we have a channel dedicated to spoilers on our Discord.

Stay On Topic!

- One way or another, keep comments related to the anime at hand or about 123animes in general.

Flaming / Swearing

- While swearing is allowed (unless really excessive), do not direct it at other users. In any way, do not start or participate in any flame wars. Flag comments violating this rule and we will deal with them accordingly.

Self-Promoting / Advertising

- While it is okay to mention other anime/manga websites, do not deliberately advertise them.

- These types of Youtube videos will not be tolerated:

Non anime related

"Anime Rant" videos will be removed since we have no way of confirm whether it's for self-promoting or no.

- Also, comments are not an advertising board!

Comments containing just links with no text will usually be removed, unless they're an answer to another comment.

Any links leading to viruses/phishing sites/etc are forbidden.

NSFW

- NSFW images are restricted for NSFW anime. If the anime you are on is not NSFW, then NSFW is not allowed. NSFW in this case, refers to ecchi. No hentai is allowed in any case.

Profile Pictures

- Comments made by users with NSFW profile pictures may be removed, depending on the contents of the picture. Slight ecchi/fanservice is allowed but hentai is not.

Posting Pictures

- Limit comments to a maximum of 3 images or less.

- Memes are allowed to the extent of:

They are on-topic and relevant(Anime related).
They do not spoil anything in the current or future episodes.
They do not contain questionable content (ex: Hentai)

Most Importantly: Use Common Sense!

- If you think you'll get in trouble for what you're about to do, don't do it.

Moderation

- A moderator's verdict is final and arguing with them will only cause further punishment.